When you think of the Canary Islands, probably the first thing that comes to mind is beaches. We don't blame you. This small Spanish archipelago is a well-known beach resort destination. However, what many people don't know is that the Canaries abound in many hiking possibilities.
If an adventurous holiday and island-hopping are your cup of tea, you'll love the fact that this southernmost point of Europe is a hiker's paradise. There are many mountainous terrains to enjoy and explore, but they all come down with ups and downs — no pun intended. 
Keep reading to find what are the 6 best hiking trails that the Canary Islands offer.
1. Roque Nublo: Cloud Rock in Gran Canaria
This key landmark of Gran Canaria is a must-visit. Gran Canaria has some of the most outstanding landmarks and the island's best trails. 4.5 million years ago, Gran Canaria was reshaped by a massive eruption. This event created a lava landscape and some outstanding outcrops, such as the Roque Nublo. Roque Nublo (1,813m) has sacred significance as it was once a place of worship for the island's indigenous inhabitants.

If you opt for hiking Gran Canaria, we suggest you start with the town of Tejeda and head towards the town of La Caluta. This hike is marked as 'Ruta 2' and will take you 4-6 hours to conquer it. The breathtaking views make this adventure well worth it. However, note that the best time for exploring this trail is from April until October.
2. La Gomera: Hike Away from the Tourists
This quiet and bite-sized island can be found just opposite southern Tenerife. It is the second-smallest of the islands, but it doesn't lack any of the lush greenery you expect to see. This remote island is perfect if you want to stay away from mass tourism and discover some of the best beaches.
There are 2 popular trails that we suggest exploring. The first one takes you to the forest in the center and into the Garajonay National Park, while the other leads you in a circle around it. The Garajonay National Park is only one of the many fairytale forests that you're going to witness on your hike. Therefore, we suggest you check the hamlet of El Cedro. This will lead you to a number of spectacular hikes, including a 2-hour walk to the Chapel of Our Lady of Lourdes and back. The hiking season lasts all year round due to its mild climate.
3. Teno Park, Tenerife: Perfect for  Backpacking the Canary Islands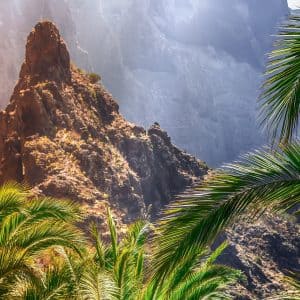 Teno Rural Park (officially, Parque Rural de Teno) is one of the most attractive hiking trails in the Canary Islands. It is a popular destination for backpacking the Canary Islands. TF-57 is a circular hike that you have to try. The town of El Palmar is a starting point and you'll be ascending the Teno Alto mountain ridge and enjoying some of the most awe-inspiring views you've ever seen.
You'll catch a glimpse of La Gomera and many other dramatic mountains along the way. Halfway there is a cafe where you can have a coffee or a lunch break. Manca, a must-visit town, is a place you simply can't skip on your hike there.
4. Fuerteventura: The Most Outstanding Hiking Spot
Fuerteventura is one of the most outstanding hiking spots in the Canary Islands. Moreover, it boasts a magnificent coastline and rocky sea cliffs. If you are up for a desert hike, Fuerteventura is the trail for you.
We suggest you try the GR131 which goes from the north to the south. With a length of 160 km, you'll have an opportunity to explore the longest trail of the Canary Islands. However, note that other hikes in Fuerteventura will require a hiking guide as they're not well-marked.
5. Lanzarote: The Island of Eternal Spring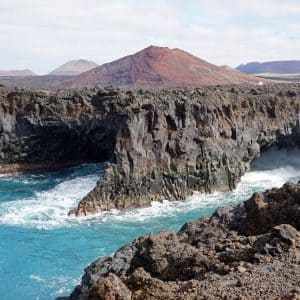 Surfing and diving are probably the best activities one can think of doing while being on the third most populated Canary island. This desert-line island where it rains only about 16 days per year is also perfect for hiking.
If you decide to hike, don't forget to explore Timanfaya National Park, situated in the center west of the island. This is one of the most spectacular attractions on the island. The two mountain ranges in Lazanrote are Famara and Montañas del Fuego. Between them you can see the El Jable desert. 
We suggest you undertake the hike going from Femés to Papagayo. Additionally, you can also consider hiking to Caldera de Montaña Blanca and Volcano Monte Corona. 
6. El Hierro: The Least Populated Westernmost Island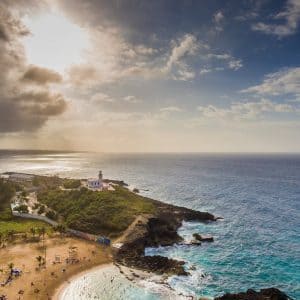 If you want unspoiled nature and prefer to stay away from tourists and busy places, you might want to head to this UNESCO Biosphere Reserve island. Its mild climate and rare rain make this island perfect for all year round. The pleasant weather is only one of the many reasons why hiking the El Hierro trails is a must. 
There are many trails you can explore, but we suggest you check the Las Dehesas. It offers spectacular views and a sneak peek of the island's breathtaking natural world. 
Additional tips
The best time for hiking in the Canary Islands is in spring due to the colder temperatures and amazing greenery
Always protect your skin from the sun and drink plenty of water, especially during the summer months
There are no dangers of animals, except maybe jellyfish while swimming
Avoid hiking when there are heavy rains as they might cause flash floods in steep valleys and rockfalls
To sum up, hiking in the Canary Islands is an experience you'll never forget. Whether you choose Roque Nublo, the key landmark of Gran Canaria, the bite-size La Gomera, the attractive Teno Park, or the magnificent Fuerteventura, we guarantee it will be an astonishing hike.